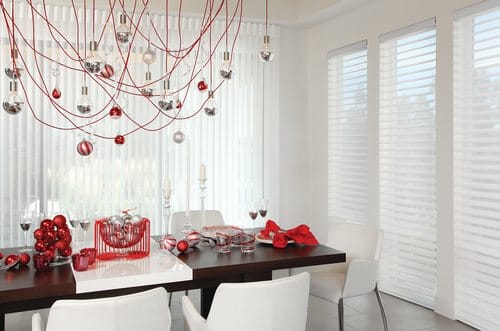 Finding window treatments can be an overwhelming task, but it doesn't have to be. Spindletop Draperies wants to be your guide when it comes to ordering custom window treatments. Here are some questions we'll help you answer as we design your perfect look.
What type of light control do I desire with my window treatments?
Are you buying for a room where you desire privacy, but still want natural light. Consider Hunter Douglas Duette or Hunter Douglas Applause Shades, which allow for privacy while still enjoying natural light. The Top-Down/Bottom-Up operating system available on these shades makes it possible lower from the top allowing outside visibility but still achieving privacy below. The experts at Spindletop can show you the multiple options available for your privacy needs.
What about energy efficiency?
Are you decorating the room with the most afternoon sun? Does the cold winter wind whip up against this window in your house? Allow your window treatments to be not only a beautiful investment for your room, but also keep heating and cooling costs down.
Up to 50 percent of a home's energy can be lost through windows. With that in mind, the Hunger Douglas Duette Architella Honeycomb Shades may be what you need. These shades feature a honeycomb-within-a-honeycomb design which makes them great for energy efficiency, keeping your home cool in the summer and warm in the winter.
What's my style?
When considering new window treatments, it's important to know what style you like. Today's current trend involves a cleaner, urban look with woven wood shades. However, that may not be your fancy. Maybe you're not even sure what style would best fit you. Checking out magazines can help you get a feel of the looks you like.
Bring all of your ideas and questions to us at Spindletop Draperies. Let our design consultants give you ideas with our FREE shop-at-home service. We can take your window treatment questions and turn your rooms into dream spaces.
For more information about our products and services for your home, contact us and let our family assist your family.
Your home. Your taste. Your customized experience.